"Connecting Outstanding Social Sector Projects with Corporate Funding: LAUNCH OF THE PROPOSAL BANK OF NATIONAL CSR HUB, TISS"
For the past 8 decades, the TISS has been functioning as a landmark Institute and trailblazer in the sector of social development. One such effort is in the form of the National CSR Hub, which is a think tank for public and private sector Companies in guiding their CSR efforts in effective, impact oriented, and community focussed initiatives. Since 2011, the NGO Empanelment process at the National CSR Hub, has been designed as an evaluative framework to be the first step towards capacity building of NGOS, CBOs, and other agencies working within the development sector. The Hub empanels organisations that have the capacity to deliver, have a planned approach and a people oriented program and strategy, regardless of their size, location, or reach, be it at a local or national level.
Recently, based on continual feedback from partners and the felt need to match credible projects with potential funding avenues, the Hub came up with the concept of a national level repository of projects that are scrutinised for programmatic and financial soundness and ready for receiving funds. Thus, was launched the National CSR Hub proposal Bank at the third TISS-UNICEF Regional Capacity Building Workshop for Empanelled Development Partners, at India Habitat Centre, New Delhi on 25th April 2016.
Prof. B. Venkatesh Kumar, Director, National CSR Hub, TISS and distinguished panellists of the TISS-UNICEF Workshop, Prof Balveer Arora (former Pro-VC, JNU), Dr Amitabh Mehrotra (Founder and Director, SPARC), Dr Sanjay Panda (IAS, Former Secretary, Ministry of Textiles), Mr SN Batliwalla (Former Secretary, Tata Trusts and Financial Advisor, TISS), Ms Lalita Sachdeva (UNICEF), Ms Neeraj Seth (Director, Advisory Services, Ernst and Young) and Mr Rohan Sarma, Head, Empanelment Committee and Capacity Building, National CSR Hub, launched the Proposal Bank by releasing the proposal template. Dr Ananya Samajdar, Head, Project Proposal Bank, briefly introduced the idea of the Bank at the launch. UNICEF, a long standing partner of the Hub, expressed its support.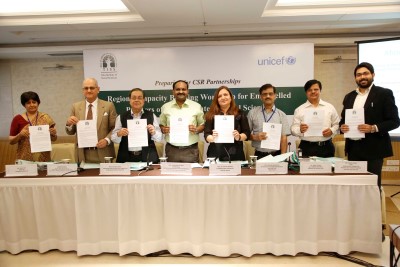 Launch of the TISS Project Proposal Bank in Delhi on 25th April 2016 (standing L-R: Niraj Seth, Director, Advisory Services, EY, Sarosh Batliwalla, Advisor, Finance and Taxation, TISS, Prof. B. Venkatesh Kumar, Director, National CSR Hub, TISS, Lalita Sacheva, UNICEF India, Amitabh Merhotra, Founder Chairperson, SPARC, Dr. Sanjay Panda, Former Secretary, Ministry of Textiles, GoI, Mr Rohan Sarma, Head, Empanelment Committee, TISS.
The Proposal Bank of National CSR Hub, TISS, is a collection of the outstanding flagship project proposals of the empanelled development partners of the Hub. The Proposal Bank has a two-fold significance: a) As a repository of innovative, sustainable, impact oriented social sector intervention models, with obvious practical and academic relevance and b) As a mechanism to help better connect companies doing CSR with development partners that have flagship projects.
The Proposal Bank was launched as a supporting initiative that can scale-up the impact of an innovative project through a grant. Companies are in search for such flagship projects and NGOs need funds to mobilise such projects. There is often a disconnect between the two sectors which has caused a delay in the implementation of CSR activities.
Proposal Bank Procedure
At the moment, the empanelled development partners of National CSR Hub can submit one project proposal each towards the Proposal Bank. The proposals submitted by the development partners are subjected to intense scrutiny. The scrutiny process has two main stages: review by the National CSR Hub team, and scrutiny and analysis by the Faculty Mentors and Advisors of the Proposal Bank. The Mentors and Advisors are sectoral experts, who are select eminent teaching and research faculty members of TISS, belonging to its different schools and centres. Consistency with legal parameters, impact orientation, innovativeness, replicability, sustainability, community needs-based justification and geographical and social targeting are among the major parameters applied in the scrutiny process. Only highly outstanding proposals, especially in terms of innovativeness, sustainability and impact orientation, would be finally accepted into the Proposal Bank. A template for submitting proposals has been prepared by National CSR Hub and shared with development partners and on the National CSR Hub website.
As a next step, the list of proposals selected into the Proposal Bank will be made available on the website of National CSR Hub and also made available to Companies and other funders on request. Reasonable efforts will be taken by the Hub to pro-actively connect accepted proposals with interested companies and companies that are thematically and geographically well-suited to support them.
This intervention by the Hub towards linking the Not for Profits to companies making profit for the national good, is a step ahead in bridging the skills, knowledge, relationship, and resource gaps between the Corporate and NGO sector.